Over 60 years of excellence.
Founded in 1960, Lebanon Machine has built a long-standing, 3-generation family owned and operated business that is built on the pillars of quality, timeliness, and value. Whoever said you can only pick two has never done business with us.
Quality.
Our customers depend on it, and we take it seriously. Companies don't last this long without this key component. From quote to receipt, our priority is customer satisfaction through quality communication, production and delivery. Simply put, we don't "do" junk.
Timeliness.
What good is quality and value if you can't get your product on time? Strong partnerships with our suppliers and open communication with our customers keeps things moving and on-time. We always do what we can to accomodate our customers' lead time requirments.
Value.
Experience and excellence in our processes drives costs down and allows us to offer competitive pricing on all of the parts and services that we are able to supply. If we offer it, it will be competitively priced, and you can rest easy knowing that you're in good hands.

CNC Turning
Our CNC turning centers are accurate and fast. Live tooling allows us to machine complex parts with features on multiple axes in one operation, saving you time and money. We can accommodate up to 21" in diameter, or 2-1/2" through the spindle.

CNC Milling
We have multiple CNC milling centers with various cutting envelopes in order to take on jobs of varying sizes. High speed spindles and rotary indexers cut down on cycle time and reduce lead times and cost.

Waterjet Cutting
A waterjet cutter is an industrial tool capable of cutting a wide variety of materials using a high-pressure jet of water, or a mixture of water and an abrasive substance. Our 60K Flow Dynamic waterjet is capable of cutting materials up to 8" thick and has a 6' x 12' cutting table. We also offer water-only cutting services for materials like rubber.


Bending and shearing
With up to a 75-ton press brake, Lebanon Machine has the capacity to bend metals in lengths up to 6 feet. We utilize digital back-gauges to ensure bend accuracy for the perfect bend every time. We can even bend round stock and tubing.

Welding
Lebanon Machine offers both Mig and Tig welding services for ferrous and non-ferrous metals. Utilizing our Bluco 4' x 8' Modular Fixturing Table, we are able to quickly and accurately set up and run small or large lots of weldments.

Coating and finishing
We offer small-batch powder coating services and also have a network of high-quality finishing suppliers. If we can't do it, we will outsource the finishing process to our trusted suppliers and make sure that you have nothing to worry about. Nickel, zinc, anodizing, galvanizing, etc. You name it, and we have a source for it.
Need design and prototyping services?
Yep, we do that too. 3D Modeling, 3D printing, first article production. We can help bring your idea to life.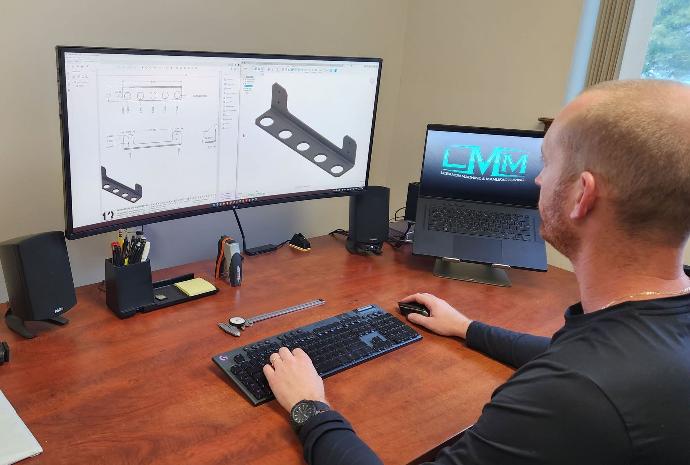 Ready to add an experienced, high quality manufacturer to your vendor-partner arsenal?
Get in touch with us and let us show you how we can reduce lead times and cost while maintaining exceptional quality.